If you are just tuning in, this is the second post in a series of three about how my husband and I met, became engaged, and eventually married. The first post was how we met at Ironwood Christian Camp. To read the post, It's a Love Story, click on the link.
Like I mentioned in my first post, Jon and I began dating in September 2004. Things progressed well, he met my family in October while they were vacationing Gatlinburg, TN for my grandparents 50th wedding anniversary. He was able to met my dad's side of the family during that trip (all six of them), plus my parents and older brother. The only warning I gave him as we drove up from Greenville to Gatlinburg was if my family gave him a hard time, that meant they liked him. If my family was super nice and didn't tease him at all, then he should probably worry. My family loves to tease people and joke around and they typically treat everyone this way, which always makes for a good time.
That weekend went really well and my parents gave me the approval on Jon. I think my mom and aunt especially liked how big his arms were, which of course didn't hurt my cause at all. Once he got over being a little nervous, he was right at ease with my family, joining right along with all the joking that was going on.
Over the course of that next year, we spent as much time together as we could. Since I was attending college so close to his house, I was over there a lot in the evenings. I don't know how his mom put up with me, my sister Kelly and our best friend Jill coming over so often, but she was great about it.  We spent Thanksgiving in Greenville and Christmas in Michigan that year. Once May finally rolled around, I graduated and moved back up to Michigan. Throughout the summer Jon and his brother David came up to Michigan to visit Kelly and I, while we would drive down to Greenville as often as we could. I think that summer every time one of us flew, some how we always manged to get a voucher for a free flight due to the airlines messing something up with our trip.
As the sumer began to wind down, Kelly and I drove down to Greenville for the last time before school started back for her. On the drive to Greenville, I just had a feeling that weekend was going to be THE weekend we'd get engaged. Call it a sixth sense or woman's intuition, but I just knew. We had talked about getting engaged that summer, and were definitely serious about getting married, but hadn't put a timeline on it. I was so confident in an engagement that weekend that I had Kelly paint my nails on the drive down to Greenville. I couldn't have chipped, dirty nails to show off my fabulous ring!
We arrived on a Thursday evening and it was business as usual. I think the four of us went out to dinner and drove around Greenville, then spent the evening back at their house. Friday came and went as well and still no ring.
Typically, whenever my sister and I visited the boys in Greenville we would stay in their parents basement. They had a bedroom set up downstairs with a bathroom, so it was very convenient, sort of like our own little apartment down there. Saturday morning rolled around and of course Kelly and I slept in, probably due to being up late the night before. Shortly after waking up, I heard someone coming down the stairs. It was Dave, he had come to wake up Kelly. He went over to her bed and said something to her, then they both went back up stairs. I really didn't think much about it, perhaps they were getting breakfast or something.
A few minutes later I heard someone else coming down the stairs. I heard this very distinctive crinkle sound, like a plastic wrapping of sorts. Of course my curiosity got the better of me and I opened my eyes. Standing, then quickly kneeling down in front of me, was Jon holding a dozen red roses. He had the biggest, goofiest grin on his face and that's when I knew what he was doing. I smiled and sat up in bed, hair a wild wreck and I'm sure my breath was pretty bad too, but he didn't seem to care and frankly, neither did I.
He told me he loved me and wanted to spend the rest of his life with me. . . he said some other stuff too, but I can't seem to remember exactly what he said. . . then he pulled out this small wooden box and opened it. Inside was a gorgeous ring with tons of tiny diamonds everywhere. I was surprised by how big it was. There was one main diamond and then diamonds on the top of the band, as well as long both sides of the band! Diamonds were everywhere and it was so shinny! He asked me to marry him and of course I said yes! So he pulled this sparkly ring out and placed in on my left hand. We hugged and he gave me a quick kiss and said he'd be right back. I just smiled and wondered what else he had up his sleeve. He ran back up the stairs and returned carrying a TV tray. On it was a plate full of eggs, bacon and toast, along with a glass of orange juice. He had made me breakfast in bed! He made it all by himself and I must say, he makes some great eggs!
So we sat there on the bed eating breakfast, me in my pajamas and  hair going every direction imaginable. After a minutes we heard from the top of the stairs, "Can we come down now?" It was his entire family waiting patiently to congratulate us. After the hugs and congratulations, I called my family and close friends to let them know the news. That night his family took us out to a nice dinner.
One thing that was kind of special that day happened a little later that afternoon. I received a phone call from one of my best friends, Tricia.  She called to let me know that she had just gotten engaged that same day! In hearing her describe her ring to me, it sounded so much like my ring. I couldn't have been more excited for her. We knew once I returned to Michigan we'd have a blast going over wedding details together!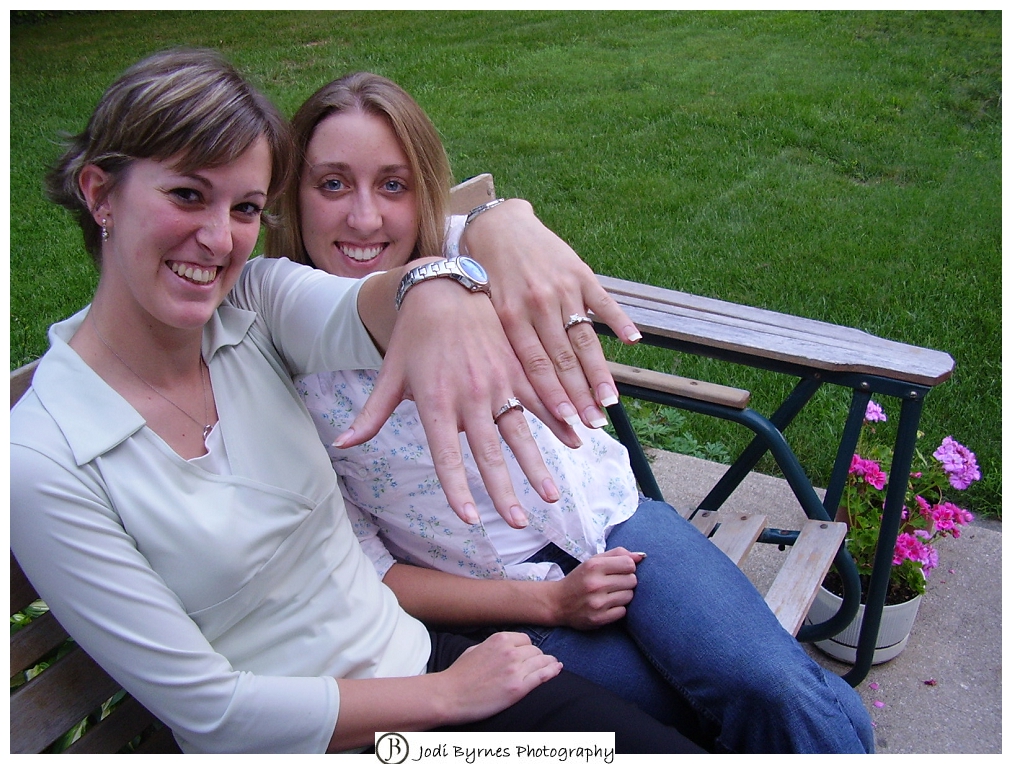 We were engaged the morning of August 5, 2005. Jon told me later he had been thinking of taking me up to Bald Rock (a lookout on the mountain) that night and proposing there, but couldn't wait all day to do that. I know our engagement story isn't the most romantic and its kind of silly, but it is SO Jon. He is the kind of person who gets so excited about something that he just wants to tell everyone and do whatever it is right then! As more of a dramatic child growing up and a very passionate person it used to be hard for him to keep a secret because he would be so excited about whatever it was that he just had to tell someone. I can personally vouch for him that he has gotten a lot better with secrets now!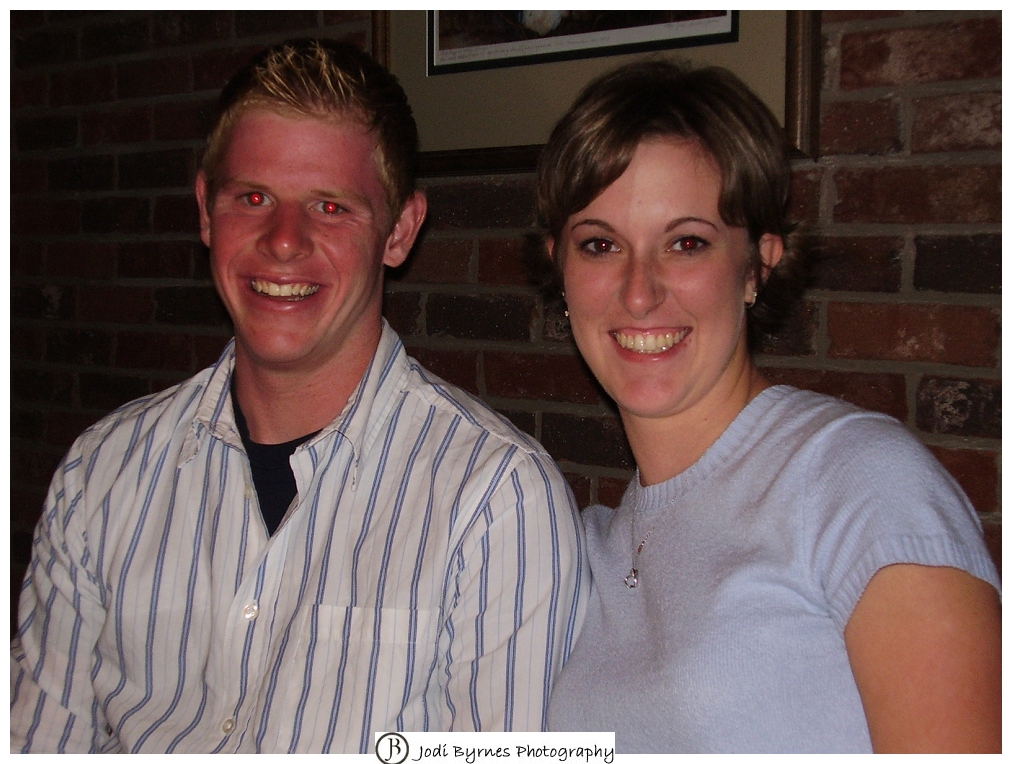 I love our engagement story. If we had gone out to some fancy place and gotten all dressed up, it would have been a little different for us. We're just not the living-the-high-life kind of people. The way we were engaged fits us so well, I wouldn't change one bit of it, because its who we are.
Next week I will write our wedding story, so you'll have to check back in then. Let's just say, our photographer told us it was one of the most fun, most memorable weddings she had done yet!