This past February my husband and I took a trip we have been planning and preparing for for three years. Well, we haven't really been planning for three years, as we intended to go in 2016, but God had another direction for us to take.
In 2016, Jon and I celebrated our ten year anniversary. We had talked about taking a trip somewhere, just the two of us, and kept going back and forth on where we would spend this special gift of one-on-one time. We kept coming back to the idea of visiting Oahu.
When we were married in 2006, we spent our honeymoon in Mexico. We kind of thought Hawaii was way out of our league, and never considered it for our honeymoon. So, ten years later, it felt like it was time to give the island a chance to show us what she was all about.
However, God had other plans for us and in late 2015 we were pregnant with our third child. I knew I didn't want to go on a trip of this length while pregnant, no matter how early it was. So we waited another year until 2017 to make our trip.
Many, many, hours of planning went into this trip. From figuring out child care, to running Jon's business, to school schedules, soccer schedules, feeding schedules with the baby, to saving the money, to hotels, flights, food, and so much more.
Well, it all worked out and came together! Jon and I had a great time on Oahu, and I wanted to share some of my favorite memories with you!
The first day we woke up early due to the time change. When I say early, I mean, like 4 AM local time. It was nice to lounge around and watch Waikiki Beach come alive in the morning. We headed out and started to explore the island.
By chance, we drove up the coast, past Diamond Head and kept going up the coast. We came up on the infamous KoKo Head Trail and knew we had to give it a go.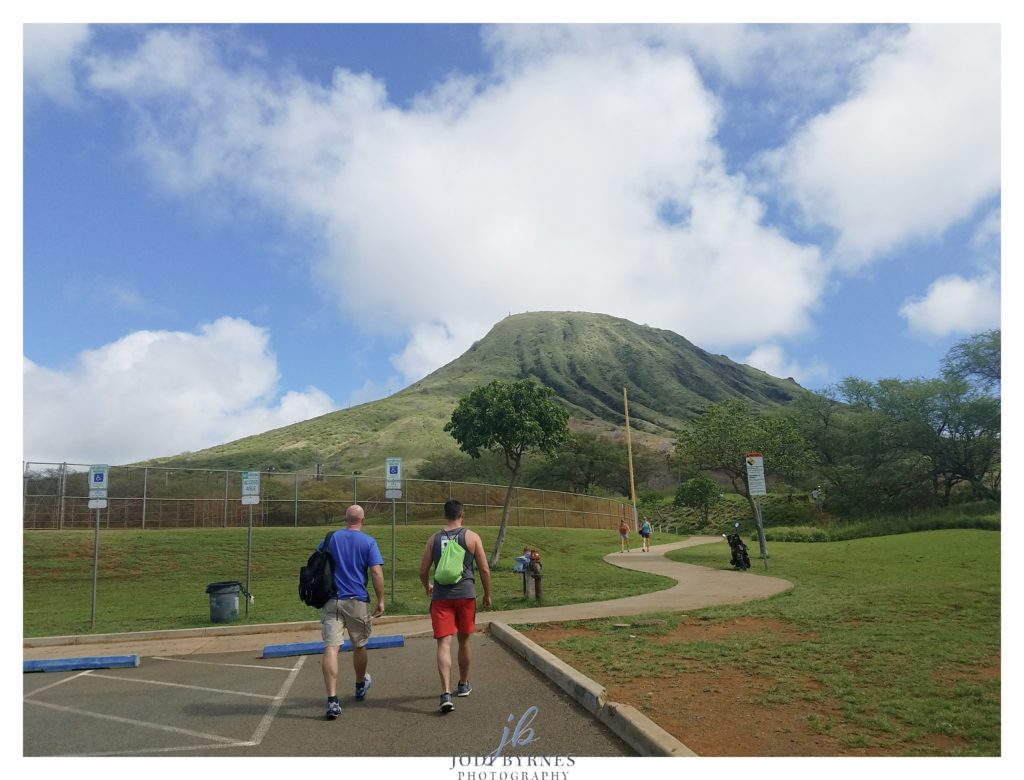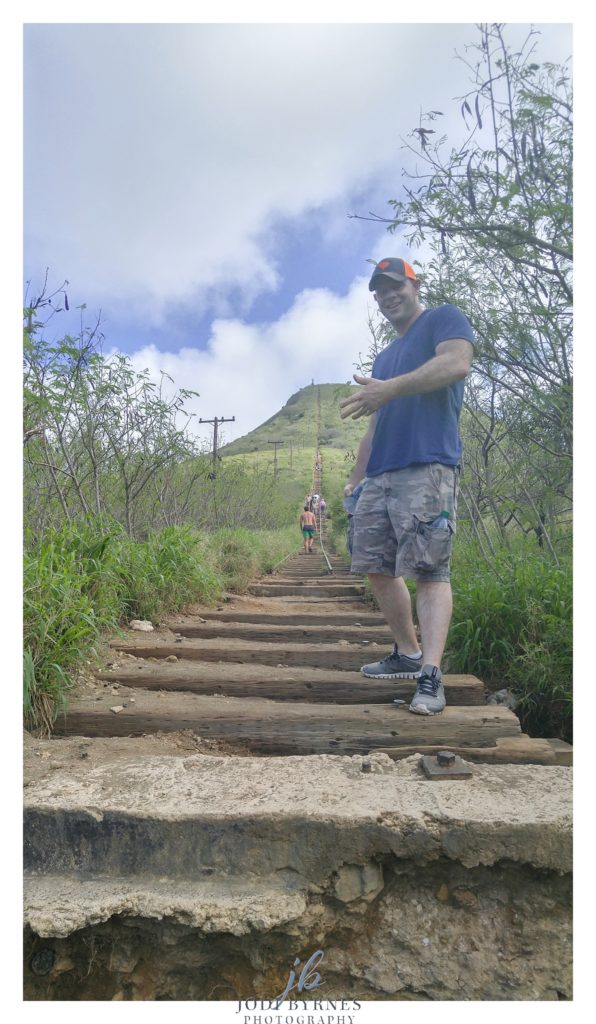 If you are not familiar with KoKo Head Trail, let me fill you in. It used to be a military post in World War II and a rail system was installed to deliver supplies and materials to the top. It's over 1000 stairs up the side of a mountain, reaching just over 1200 feet at the peak of the climb.
Here are my takeaways from hiking KoKo Head:
1.Take water and wear sunscreen.
We didn't have any with us when we left our hotel, but did stop at a gas station to get some. I'm glad we did! It was hot, even though we started our climb mid morning, the sun is intense. Wear good tennis shoes and workout clothes. We hadn't necessarily planned on hiking, so I wore jean shorts. Word to the wise, workout shorts would have been so much better. But I managed and I learned my lesson!
i thought I had lathered up pretty good with the old 50 SPF sunscreen, but the next day, I could clearly see on my left calf the entire bright red sunburn where I had evidently forgotten to put sunscreen. Lovely. right? Getting burned on the first day of a week-long vacation.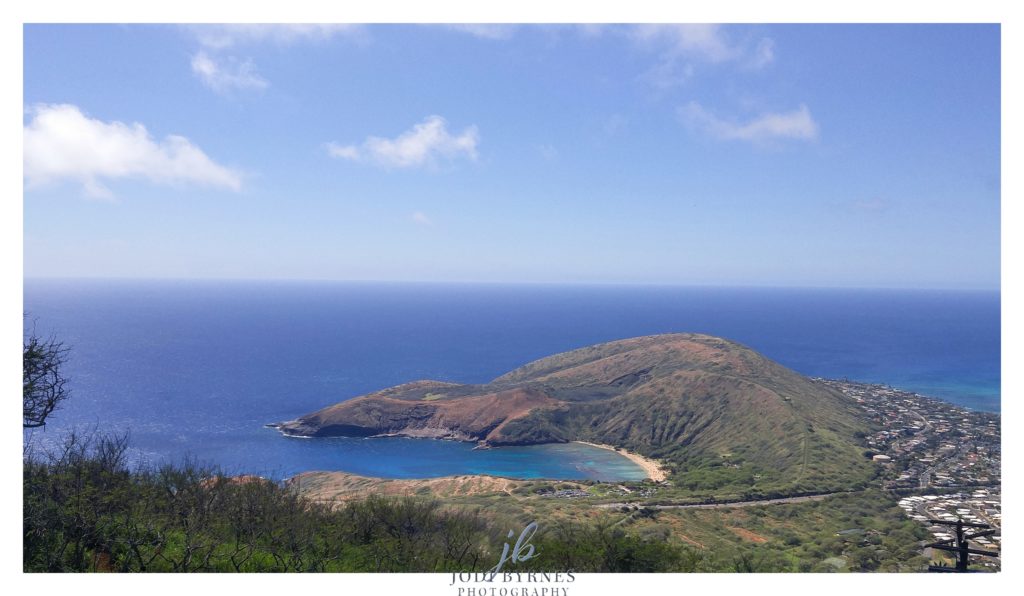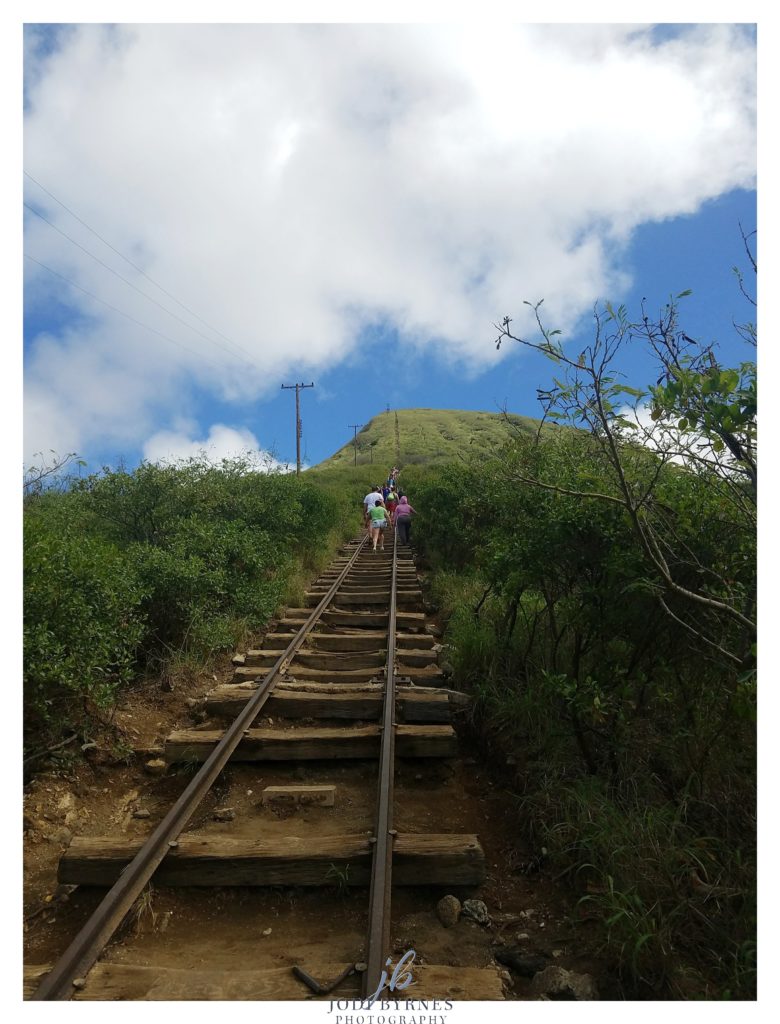 2.Take your time.
Jon was a trooper and stuck with his poor wife. I knew he was just itching to climb on ahead of me and get to the top, but he stopped when I stopped to catch my breath and stayed with me every step of the way.
On our way to the top, we overheard many people commenting on falling or where they had slid off the last time they hiked the trail. Of course that did a lot for my confidence. We passed people of all shapes, sizes and ages. Two people who stood out to me were a young girl, maybe 10, just bounding down the trail like it was no big deal, hardly winded at all. The other was an elderly lady, probably in her late sixties or early seventies climbing the trail like it was a Sunday afternoon stroll. I was super impressed and hope I'm in that good of shape when I'm seventy!
We also heard many people panting for air, people cursing their friend for dragging them along, and people saying "it's not that bad, you are almost to the top!"
People brought their dogs with them! That probably surprised me the most.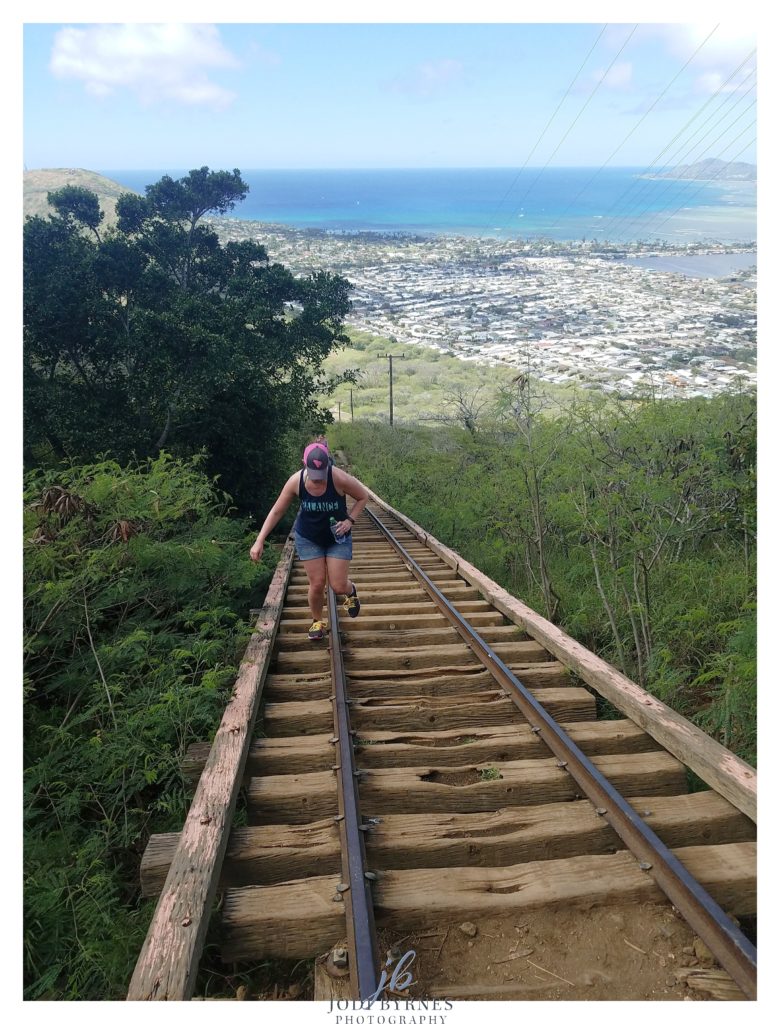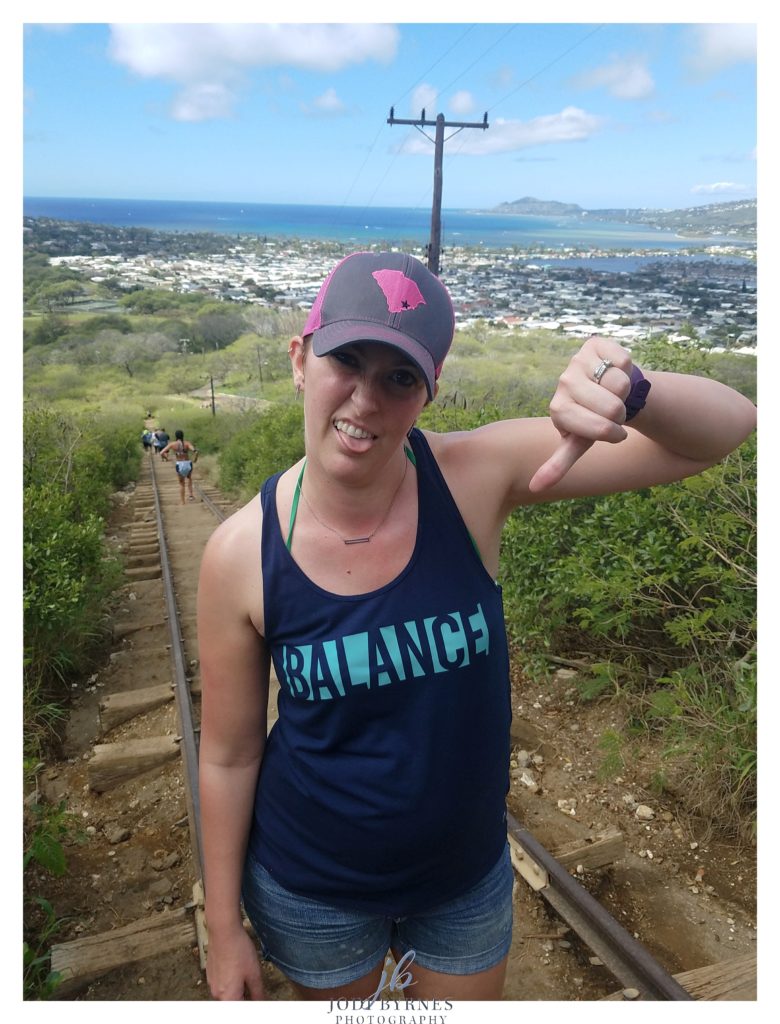 Three-quarters of the way up, the trail beneath you disappears and you literally walk across the railroad ties with forty feet of nothing underneath you for thirty feet. I don't want to think about how badly that would hurt. The stairs get progressively steeper and aren't spaced evenly. Some steps are higher and harder to climb than others. At some points you aren't really walking straight up and down, you are more or less climbing the rocks or railroad ties.
3. Do it. 
Trust me. The stair climb looks intimidating. And it is. But its totally worth the hike up and down.
The view at the top is pretty fabulous, giving you a 360 degree vantage point of the island. On a clear day you can see some other small islands. Your view overlooks Diamond Head, Hanauma Bay, Waikiki, and other places I don't know the name of. Its a feeling of accomplishment once you reach the top. Knowing that you persevered and kept going is a great mental and physical achievement.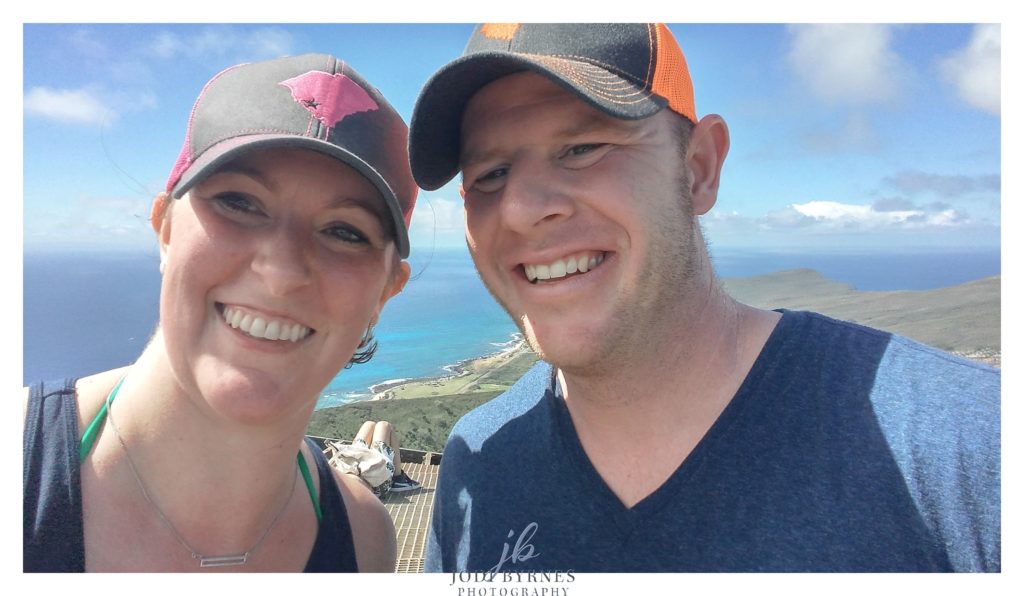 Coming down wasn't too bad. It's just taxing on the knees, so take it slow, and please don't fall. Jon figured out a clever way to come down quickly. Take a look, what do you think?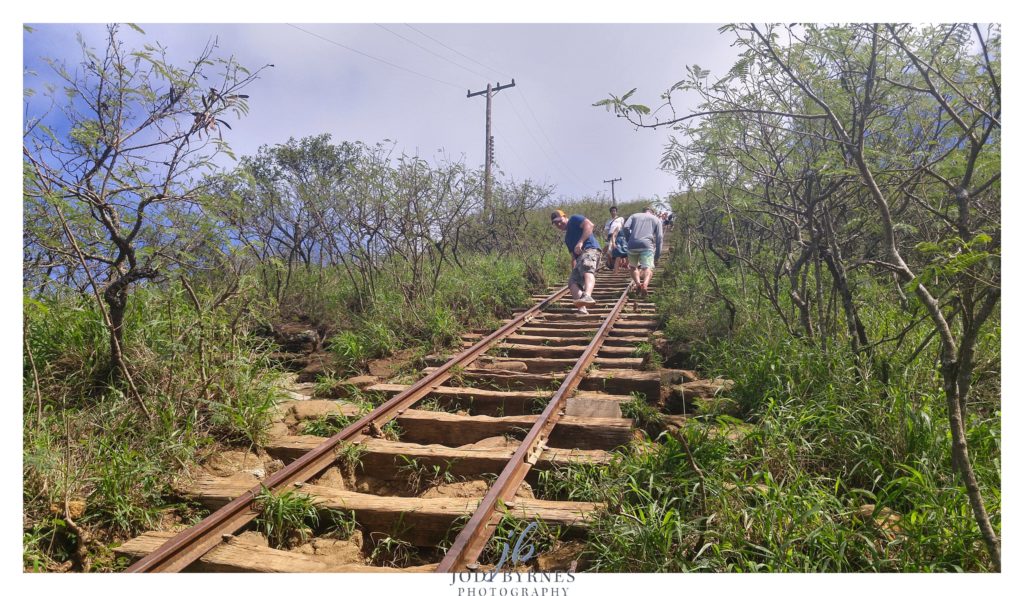 When we finished and made our way back to the car, I said I probably won't run out to do that again.
But I would. If we ever return to Oahu, I would hike the trail again.