We're all a little guilty of ordering the CD or USB of images from our photographer so we can have all the images. In our minds we have grand ideas for printing and displaying photos from our most recent portrait session. Maybe we'll do a large album with slip in photos. Or maybe we'll do a photo book from Shutterfly or Snapfish.
But then we get busy and routine takes over. That expensive flash drive or shinny CD gets dropped into the desk drawer or kitchen catch-all drawer and soon it's forgotten about. We think that we'll get to it one day when life slows down. Or we'll pull it out once school starts and the kids are at school for a few hours. Or we just simply forget its there until spring cleaning comes around.
We all know printed pictures are important. I don't think anyone would argue that point. But do we take our own advice and get photos printed?
You might be saying, "Well, Jodi, that's all nice and sounds perfect, but in reality how is that supposed to work?"
I thought I'd share three ways that I get my pictures printed. I would love to hear how you print your pictures and display them around your house. Maybe we can all inspire each other to print more pictures of our families.
For the longest time, I would print physical pictures and place them in large 12×12 photo books. You know the kind, the ones with the plastic pockets you slide your 4×6 sized photo into. It's a small step up from the old sticky albums all our parents have with the clear plastic covers on each page. I have several, heavy, expensive albums full of 4×6 prints just bursting at the seams.
As time went on and technology improved, I thought there had to be a better way to display prints and a more economical way.
I came across a company called Blurb, and decided I'd give them a try with my photos. The thing I like about this company is the options it gives for photo books. You can be as involved in the design process as you'd like, from designing the book yourself to having an expert do it for you. I've had three of these photo books made and can't wait to get more ordered. The quality is top notch and each cover can be customized. I use these types of books for our family pictures we take throughout the year.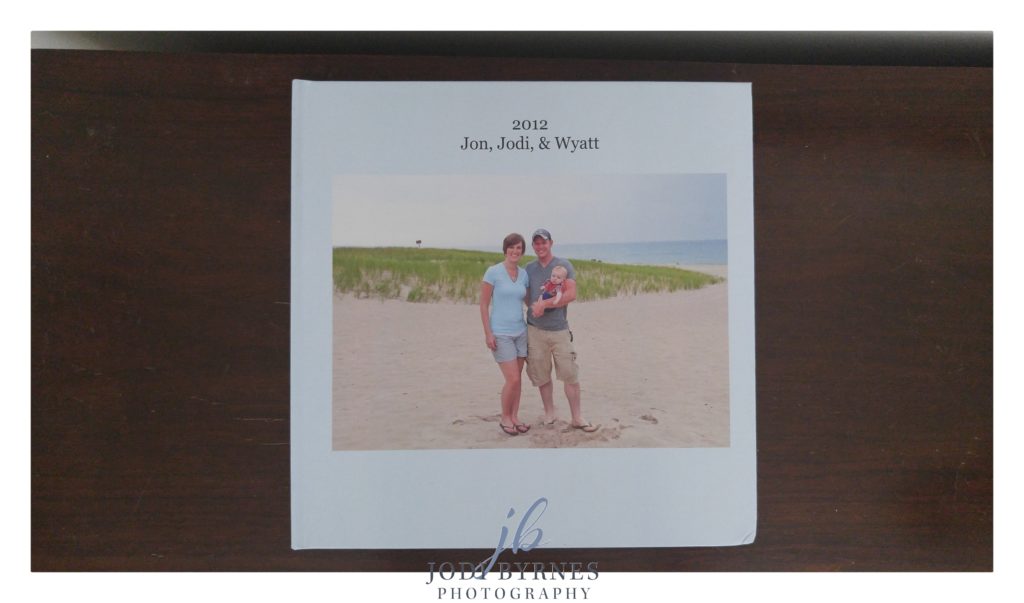 For our annual fall portraits, I typically have a small 8×8 book printed of just those portraits contained in that album. This makes it fun to quickly see every year.
The second way I display my photos is printing 11×14 prints and displaying them in 16×20 white frames in my hallway. I have room for six photos in my hallway these are typically photos we've had another photographer take of my family. These will stay up year round and I usually don't swap photos out until the next year. I like to keep the photos in the frame and just add to it every year. It's always fun to see how the kids have changed or Jon and I have changed over the years.
The final way I display my photos is on on an old picture frame I picked up at an antique shop. I had grand ideas of sanding it down and painting it, but gave up half way through. I actually like how it looks now, it's got a sort of distressed look to it. I stapled three rows of twine to the back and purchased tiny clothes pins for it. I then printed out 9 5×5 prints with a white border to hang. I chose pictures I took of the kids for this frame. I need to update it since we now have Levi. That's a project for this spring I think.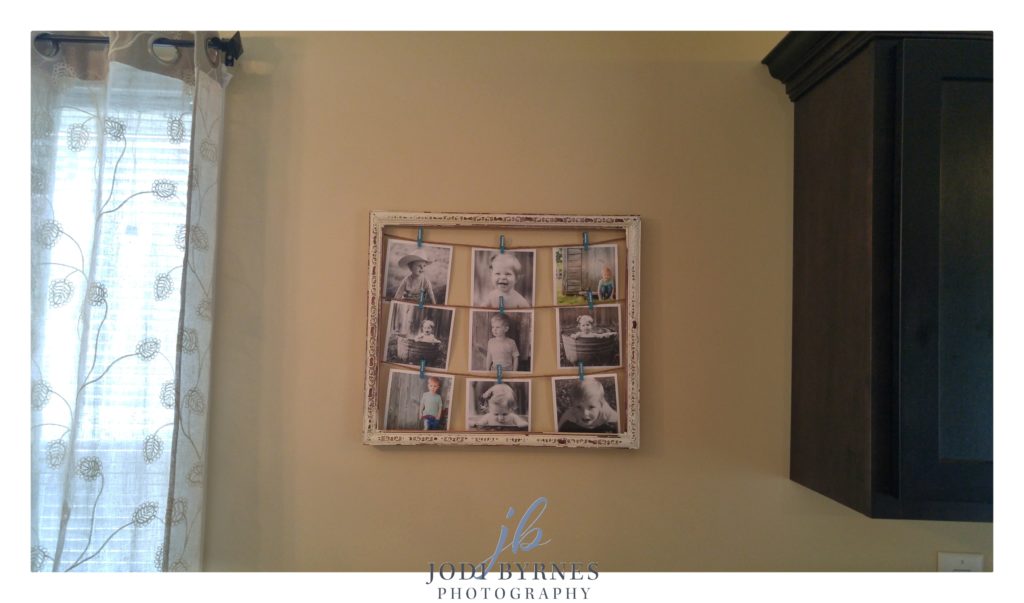 We recently had the house painted, so I don't have any of my pictures back up on the walls just yet. I'm taking my time to make sure its perfect before putting more holes in the wall.
So, that's how I display my pictures in my home. What do you do in your home?