The best kind of gifts are the ones that keep on giving, am I right? This past Christmas, Rick decided to gift his wife with a family portrait shoot as part of her Christmas present. What a sweet guy right? We met on Christmas Eve to photograph their rustic family portraits.
After emailing and chatting on the phone, Rick was looking for a rustic location and something with a barn. I knew of the perfect place! We actually did portraits in two different locations since this family was on the ball with taking direction and getting it done!
The outfits were so on point with the rustic, barn, woodsy look without being too cliche. Clothing choice is critical to a successful portrait shoot. It really does make a big difference in how you feel and how the portraits look. They chose jeans, creams, greens, and burgundy for their color palate and it photographed beautifully! As an outdoorsy family, I think they nailed the look!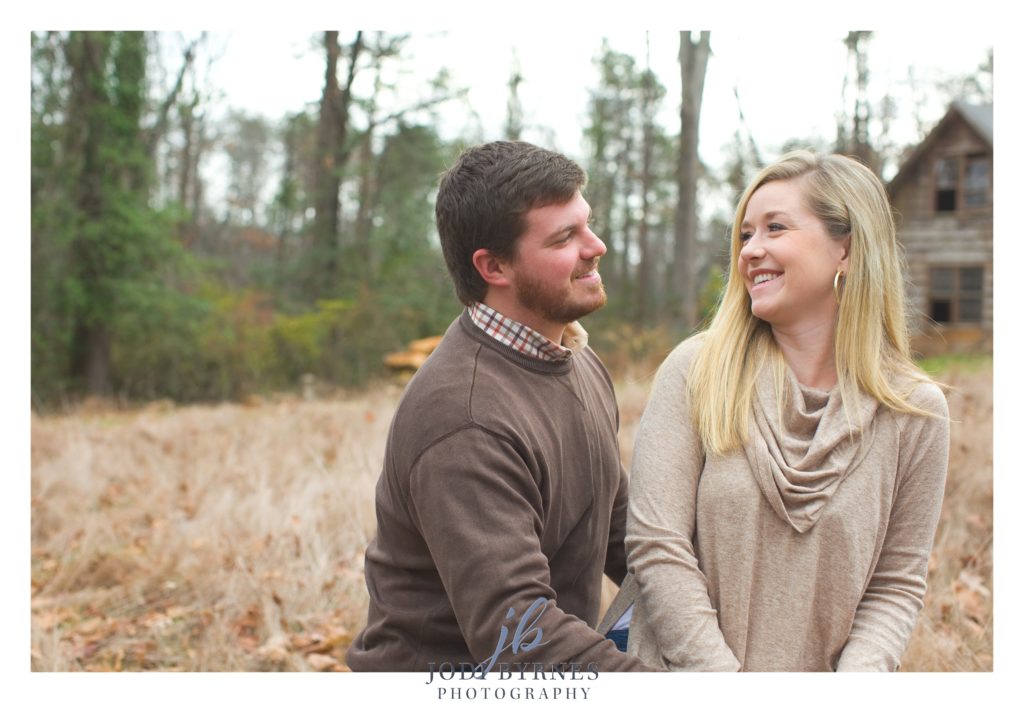 This family was fantastic to work with and were laughing the entire time we were shooting. They were making jokes and genuinely enjoying their time together, it was great to see such closeness! Not only do they know how to have a good time, but Rick is a business owner in the Upstate. His family company, All Square Restoration, helps people restore and remodel their homes after a disaster has struck.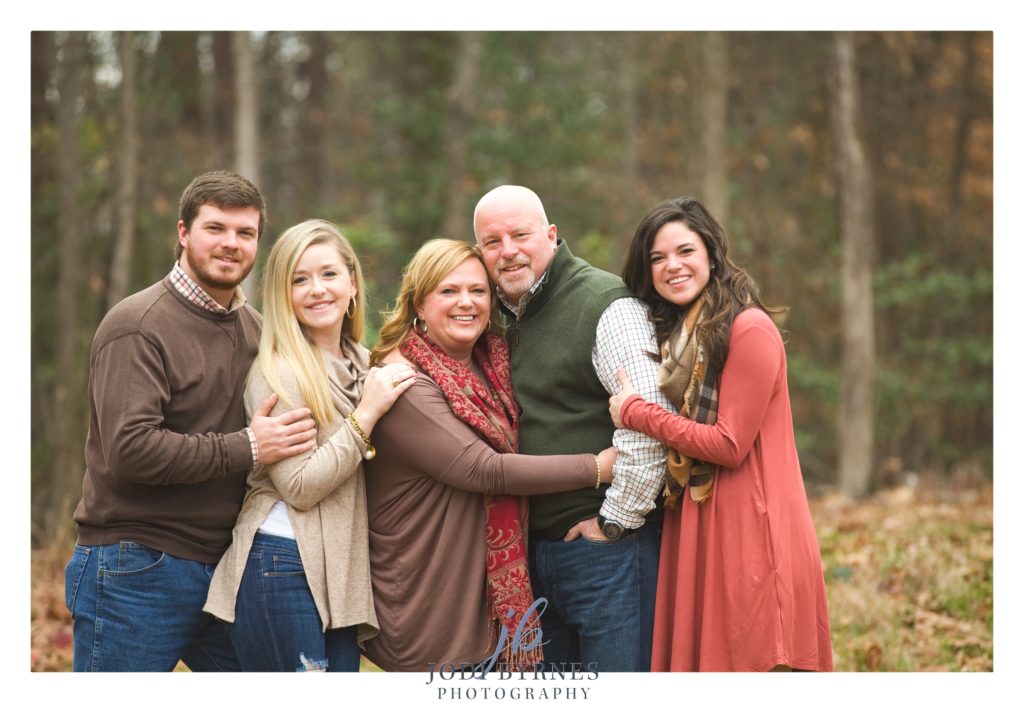 On the property we were using was a pile of logs and someone had the brilliant idea of using it for a photograph. We walked over and started brainstorming. I love how the image turned out. One of the girls mentioned this would be a great album cover if they had a band! It was just a really cool idea and something totally original to their family.
During the ordering and viewing session this image was one Rick and Lisa decided to enlarge and display in their home as a canvas. I am super happy for them and know it will make a great talking point and beautiful addition to their home. It's always exciting when clients order big prints or canvases of their family portraits to hang in their home.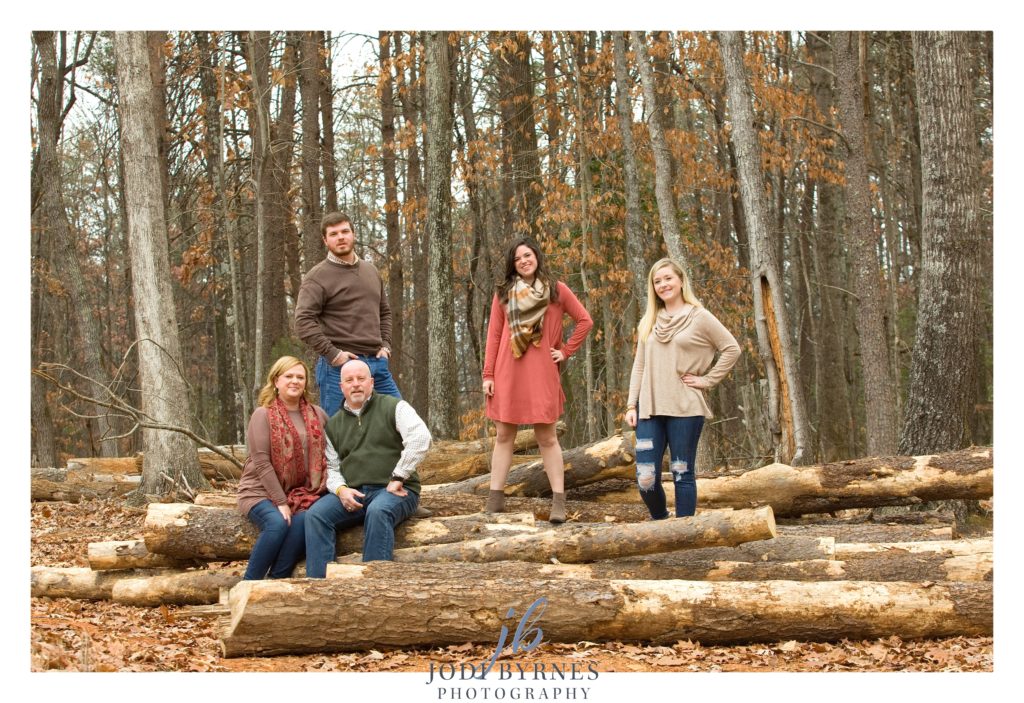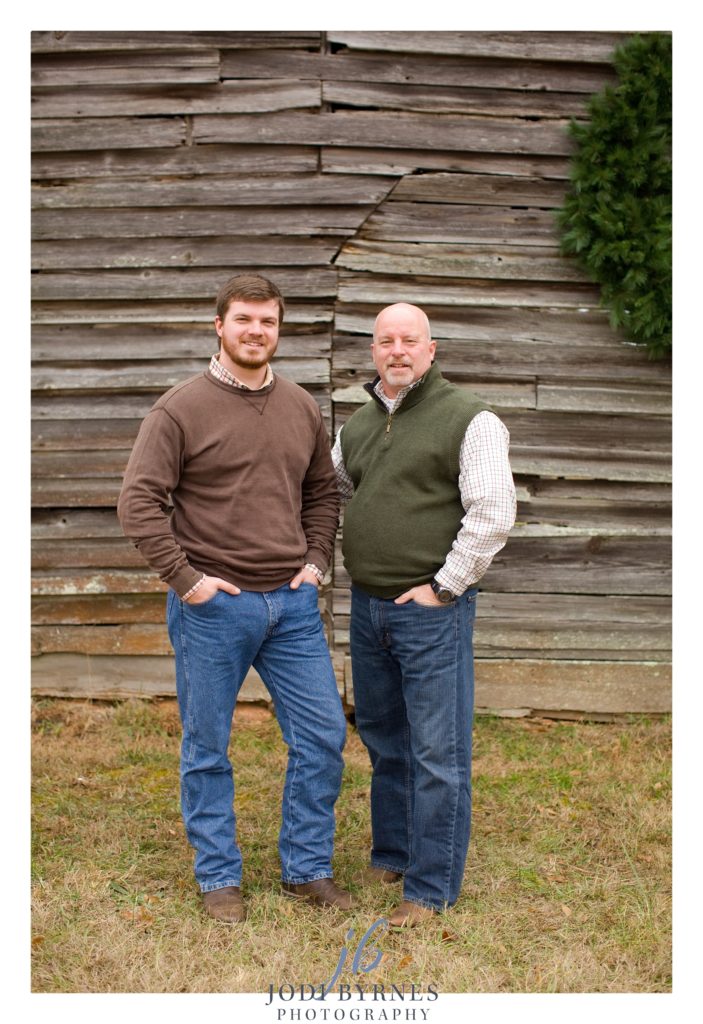 What a fantastic Christmas present this turned out to be! What mother wouldn't want beautiful photographs of her family and children? Thank you Rick for thinking of your wife and doing this for her!
Jodi Byrnes Photography is a family portrait photographer specializing in families, children, and couples in Greenville, South Carolina. Serving Taylors, Greenville, Greer and the Upstate region of South Carolina.
Interested in a session? I would love to chat with you regarding a family portrait session whether that's you and your eighteen kids, or you and your special honey, or just your precious babies. Contact me to set up a time to talk about your vision for portraits. I offer heirloom albums and fine art prints, along with digital negatives.
Greenville family photographer | Greenville Children's photographer | Greenville couples photographer | Taylors family photographer | Taylors chidlren's photographer | Taylors couples photographer | Greer family photographer | Greer children's photographer | Greer couples photographer | Jodi Byrnes Photography.