Whenever I shoot an engagement session, I always like to find out how the couple met. Every one's story is so unique and special to them and its always fun to watch a couple recount the way they met. Usually she'll start out with all the details on how they first met and he'll add a few flavourful comments to embellish the story a bit.
Well,  I thought I'd share my story of how Jon and I met. I'll write my story in a three part blog series, the first being how we met; the second on how we were engaged; and the third on our wedding. So stay tuned!
Our story starts in May 2004, although God really began to orchestrate it months before hand, but I won't get into all of that. I had decided to spend the summer between my junior and senior years in college working at a Christian camp in the middle of the California desert. I'd never been to California. I only knew two people who would be working at the same camp that summer. I'd never been that far from home by myself. I couldn't have been more excited! I love to travel and I love adventure, so this had my name written all over it!
I arrived at camp and quickly got settled in, sticking close to the two friends I had. As the summer got underway, new friendships were forged and new memories were made. I have to say that summer at Ironwood was one of the best summers of my life. I met so many amazing, truly down-to-earth people who had a heart for God like I hadn't really seen before. Their faith was very real to them and their lives were a reflection of that.
As the summer progressed, the Fourth of July weekend was approaching. Typically, that week of camp is a shortend week for campers, so the staff is able to take a mini vacation, if you will. We went to L.A. and played on the beach, spent the night at a local church and the next day went to an amusement park. Now, granted with my love for adventure, I don't have a love for roller coasters. So I was the official purse, backpack, flip-flop, wallet, jewelry-holder for our time at Six Flags. What an amazing weekend that was! To be able to see another part of the country and spend time just relaxing and hanging out with friends was a much needed relief in the middle of a long summer.
Over the course of the summer I had struck up a friendship with a guy named Jon. Jon was actually pretty good friends with one of the only people I knew upon first coming out to camp. He was a fun-loving, hard working, dirt-bike riding guy from South Carolina. He always had me laughing with crazy stories and seemed in his element with his friends. He was usually around the same people I was, so we would talk and do things in a group.
As camp began to wind down, Jon's brother, David, came out to camp to volunteer for a couple weeks. David was a redheaded, hardworking, bit-of-a-flirt kind of guy who I immediately liked. During one of our weekends in between camps, David and Jon were out riding dirt bikes with a friend. They decided to ask me to come along on their little excursion and I wasn't about to say no! It was this particular weekend that holds so many great memories for me. I learned to ride a dirt bike for the first time and I must say, it was a blast. Between the four of us we had two dirt bikes and one very old Volkswagen Beetle. Now this VW wasn't just any ordinary bug, it had no brakes, which made for some very funny stories. One being jumping and/or ramping  the car off a hill and loosing the steeringwheel upon landing (there seems to be a disagreement with the acutal process in which the car took off, but we won't get into that!). We'd all be stopped on the dirt bikes taking a break and the VW would go flying by us, quickly down-shifting trying to slow down and stop. Slowly it would turn around and almost coast back to the rest of us.
Anyways, after that weekend, my sister came out to visit me and volunteer at the camp. I introduced her to David and since Jon and I had other responsibilities in the evenings, David and Kelly hung out. We became a closer knit group and really started getting to know one another. It was after lunch one day on a Sunday that I asked my sister if she could see us marrying someone like David and Jon one day. They were hardworking, fun-loving, considerate and could fix almost anything. In many ways, they reminded my sister and I of our dad. To this day, Kelly and I both remember that conversation, not knowing that we would actually marry these guys.
Well, camp came to a screeching halt. In a way I was ready to get back to school and start on my senior year, but in another way I was reluctant to have this summer come to an end. The friends and the memories I had made are forever burned into my heart; I will cherish those forever. Jon and I and a couple other friends spent the last night of camp laying out on some hay stacks just talking until way past midnight. There is something about the clear California desert night sky that is just breathtaking. I can't remember how many shooting stars we saw that night. Our conversation that night ranged from memories over the summer, to future plans, to the things God had taught us over the summer, to crazy things we've all done. It was probably the best way to end that summer.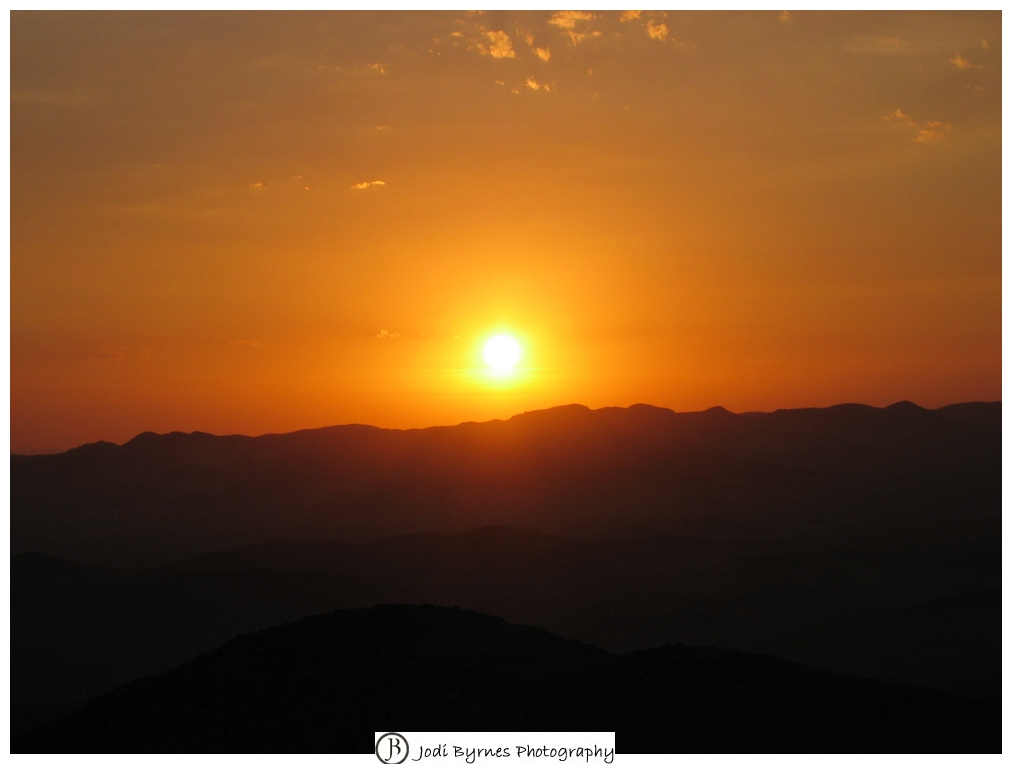 So back to school I went, thinking Jon would just be a nice friend that I had met at camp. Little did I know, Jon lived ten minutes from the college I was attending. Once I was back in Greenville, my sister and I began to hang out with these brothers a little bit more. I think we were over to their house practically every night that year! As the semester wore on, Jon and I decided to take our friendship to the next level and we began dating in September 2004. I think the second best part of my summer at Ironwood is my sister, Kelly, and Jon's brother, David, also started dating that fall. The four of us had so much fun running around Greenville together and making long road trips back home to Michigan.
So that's the story of how we met, minus all the boring parts . . . and a few not-so-boring parts. . . anyways, the picture below is our very first picture taken together. At this point we were still friends, but were starting to think that there was something more than friendship that was brewing. We took this picture while waiting in line for a roller coaster at Six Flags that Fourth of July weekend. I can't believe how young we look!