So you've just finished up your ordering session with your favorite local photographer (wink wink) and are ready to display your fabulous photos in your home. But because you are a unique individual and your photos are one-of-a-kind, you want to showcase them in a unique and individualistic way.
Once again Pinterest can be your best friend (or enemy) when it comes to being creative with photos. I thought I'd share with you some of my favorite ways I've seen photos displayed. They may not be too out of the box, but something just a little different than your neighbor down the street.
Personally, I don't really care for the entire wall to be covered in photos. Less is more right? But it's your house, so do with it as you please.
There's just some classic about a white mat and a white frame. I love this little pop of color in the monogram and how it ties in with the outfits the family is wearing.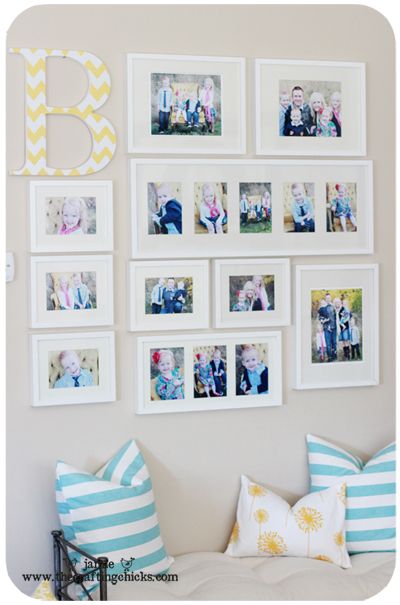 If you are more of the colorful type, this might be an option for you. Choose a different color mat to complement a black and white photo. The mat becomes more of the focal point, but it draws you in to see what it's framing.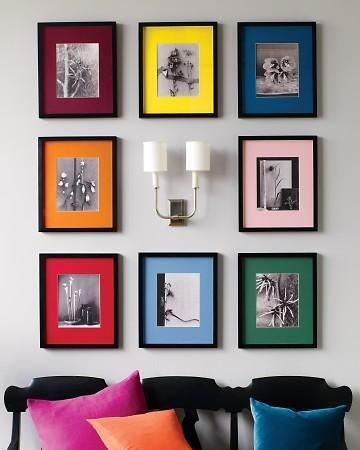 This is a creative and definitely non-traditional way to display your photos. I kind of like the vintage look of the bottles and editing on the photos. It's something different and would need to be placed perfectly in the home for maximum exposure.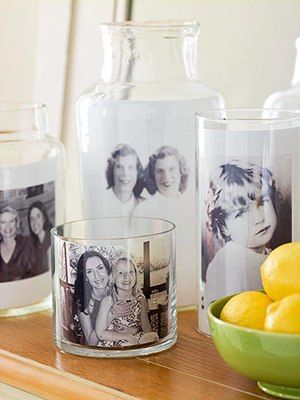 Here's a quick way to spice up that wall gallery, add some string and a few hooks and you have a little something unexpected.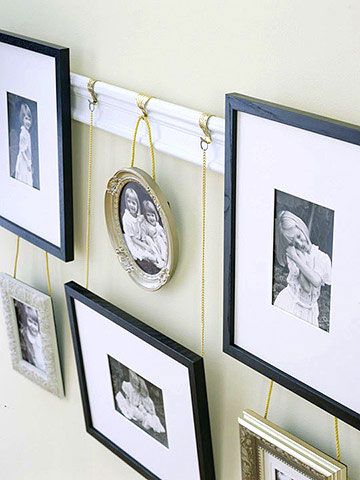 For all of you instagram, OCD-type personalities, this one will speak to you. I love the use of squares, the pictures, frames, matting and overall design. I've come to realize I like my designs to be symetrical in nature, or at the very least balanced, so of course I love this layout. Just don't go crazy with too many, that's a lot of holes and if your husband is like mine, he's probably hoping you won't get the urge to redecorate this wall any time soon.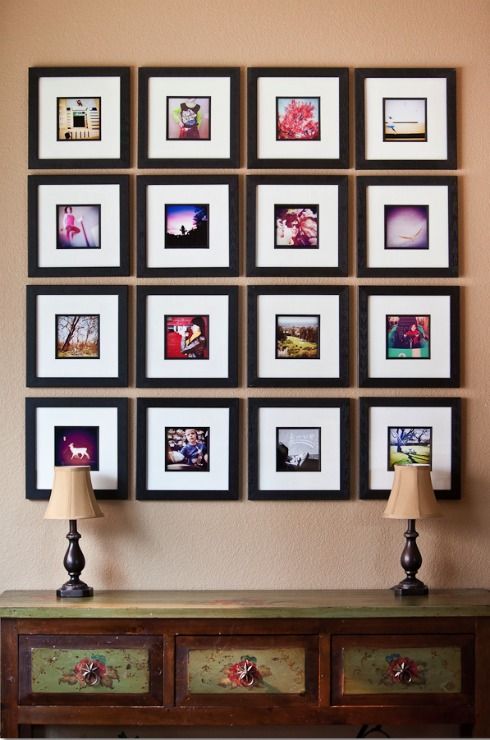 I'm sure you've seen this image or a variation of this image before, it's nothing new, but it still is creative, so I'll give them that. I've also seen individual pictures in each window pane. Both have a vintage feel and add a little more dimension to the traditional frame.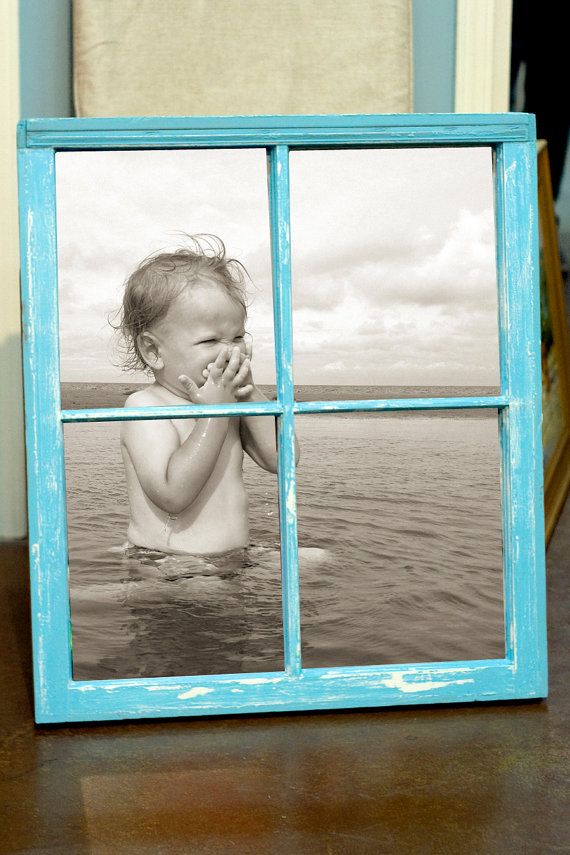 This is a little too traditional for my taste, but it is creative, so I threw it in here anyways. Use a plate holder as your next picture frame holder. It's a simple way to spice up a guest bathroom or kitchen if you're not into hanging pictures on the wall or using shelves to display your photos.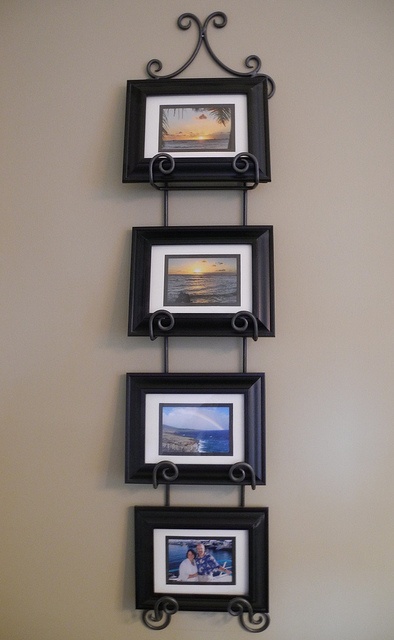 Again, here's another take on the window frame idea, except this one looks a lot more aged with the use of the old photos. Keeping it classy.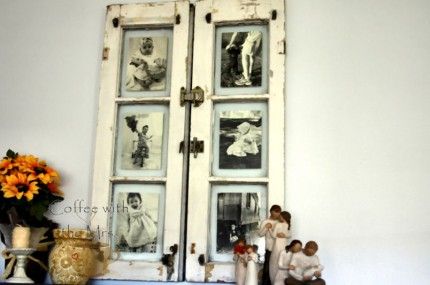 This is another idea I like and I actually have a project that I've been working on for some time that is similar to this. It's not that its that hard of a project to complete, I just haven't taken the time to do it. But, I like the twine and the little clothes pins. I'd probably actually do it with 3 photos across instead of the 4, just to draw more attention to those, but whatever floats your boat.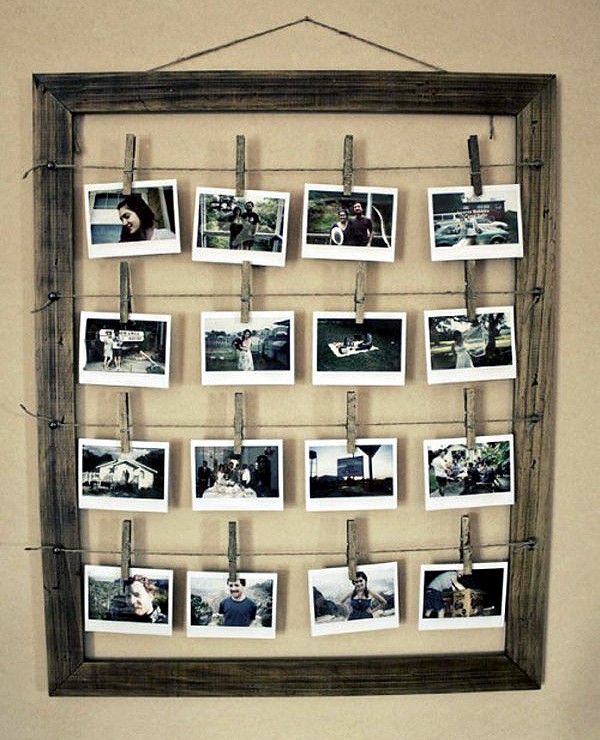 And last but not least, if you happen to have an old wheel from a bike or cart, this might be an option for you. I like the use of the circle instead of something square, but I probably wouldn't put this in my home,  it doesn't really fit with anything I have. But it's still a cute and creative idea.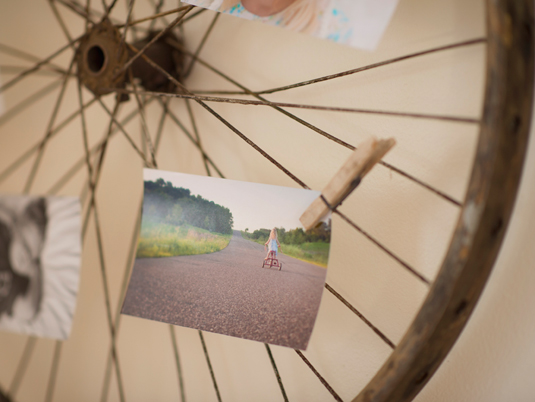 Even if being creative isn't for you when it comes to displaying your family photos, the important thing is that you do display them! My 2-year-old-son loves looking at family photos and seeing his grandparents in Michigan or aunts and uncles who live in North Carolina and Florida. It's important for him to know that family is important to us.
In case you are interested, I do offer frames, whether or not you have portraits taken with me, these are available to anyone. You can check them out here.
What are some of your creative ways to display photos? Leave me a comment below and I'd love to check them out!